Massively multiplayer world created by one-person team rewards more than one million players with new Prophecy of Bane quest series.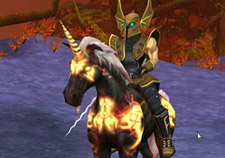 Vancouver, BC -- May 18, 2010
Maid Marian Entertainment Inc., is proud to announce the sixth anniversary of its free browser-based MMO game Sherwood Dungeon without an ad campaign, a fancy press event or a celebrity endorsement. Instead of celebrating its anniversary, the company's creator has launched the new Sherwood Dungeon: Prophecy of Bane quest series to players.
"Sherwood started out as a hobby while I worked in the console games industry and grew organically. It's been a game that's in constant development while it's live," says Maid Marian founder, Gene Endrody. "Originally players came back just to see what I had added and this created an interesting player culture because their feedback affected my choices. It's also a bit of an anti-corporate entity; more like the crazy guy who turned his house into a haunted castle and invited people in to make suggestions."
In a massive and expanding MMO space, Sherwood Dungeon stands out from a long list of cookie cutter competitors by creating a high-quality 3-D retail-style game experience that's easy to access for new MMO players with simple controls, runs in any browser and doesn't require a login, monthly fee or signup process. It's the type of formula that might make any seasoned business person cringe but for Maid Marian's one-man team, the result equals a global fan base of more than a million monthly unique visitors without any marketing plan.
Sherwood Dungeon also deviates from the tenets of modern MMO games. Combat is based on twitch reaction skills with minimal leveling up required to be potentially competitive with any other player in the game. Relying on 100% melee combat with a mere eight actions (attack, five power moves, tally and block), battles with monsters and players is kept close by not including ranged weapons -- thus giving it more of a Fight Club-style of play where respect is earned, not given. Unlike other MMO games, Sherwood Dungeon allows players to change their avatar and identity and since skill is the motivation here, there are no classes.
Socially, Sherwood Dungeon players have also dictated how they communicate, even with 99 rooms that often serve as meeting areas for clans. Such behaviors make for exciting clan vs. clan wars as players merely move to their opposing clan's room to get the battle started. A dominant chat interface also keeps communications flowing between friends and foes and with combat being Sherwood Dungeon's primary goal, none of the chat keystrokes interfere with combat (and yes, there are still control keys for dancing).
Sherwood Dungeon grew from an underground secret to global success through basic word of mouth. And those words come in many languages as 29% of the game's players live in Poland, 19% in Brazil, 8% in the United States, 6% in Turkey, 5% in France and 4% in Argentina, worlds away from Maid Marian's humble and suburban Vancouver, Canada headquarters.
Sherwood Dungeon's full and free 3-D game experience, including the new Prophecy of Bane quest series can be accessed through the web at www.sherwooddungeon.com or as a Facebook App (http://apps.facebook.com/SherwoodDungeon/). Lacking the need for a gaming PC, a credit card or login, Sherwood Dungeon proves that high-end fantasy gaming doesn't need a box, a download or a monthly subscription fee to deliver high quality gaming for casual MMO players.